Searching for a Medical Marijuana doctor in Connecticut? We made the process simple and fast to get a consultation online or by phone.
First and foremost, to be eligible for a medical marijuana registration certification, a patient must speak to a qualified medical marijuana doctor to be diagnosed with debilitating medical conditions listed in the regulations. Medical Marijuana doctors can help new and experienced users identify their ailments and certify them for their weed card. Once your MMJ card is approved, you can start the application from our website. Keep reading to learn all the helpful information on MMJ doctors, rules, and regulations.
Medical Marijuana Program in Connecticut
It is important to seek out your medical card if you are interested in consuming cannabis in Connecticut. While recreational users can still take advantage of legal programs, being a medical patient comes with added benefits and a piece of mind.
Medical cannabis dispensaries are operated by skilled, licensed professionals that have the patient's best interests and needs in mind. Licensed cannabis dispensaries also must carry compliant and tested products, ensuring the quality and safety of all products. Medical cannabis products are tested for harmful substances such as pesticides, heavy metals, mold, and other particulates that could be harmful to patients if ingested. Lab-tested cannabis sold at dispensaries comes with detailed information on the genetics, terpene profile, potency, and other key attributes of the cannabis products. This helps patients better understand the medicine they are ingesting and the benefits that can occur when in use.
Benefits Of Medical Marijuana Card
Having a Medical Marijuana Card in CT comes with many amazing benefits. Take advantage of lower product prices compared to rec users. You can also purchase and possess more volumes of products, helping save even more money. Medical cannabis patients are able to access dispensaries at 18 years old rather than waiting until 21. Medical patients can also enjoy exclusive access to medical cannabis dispensaries and products that are not available to rec consumers. And there is no longer a need for long trips out of state to buy products while risking carrying them across state lines. That being said, Connecticut medical cardholders can also take advantage of reciprocity (the ability to purchase cannabis in other Medical cannabis states).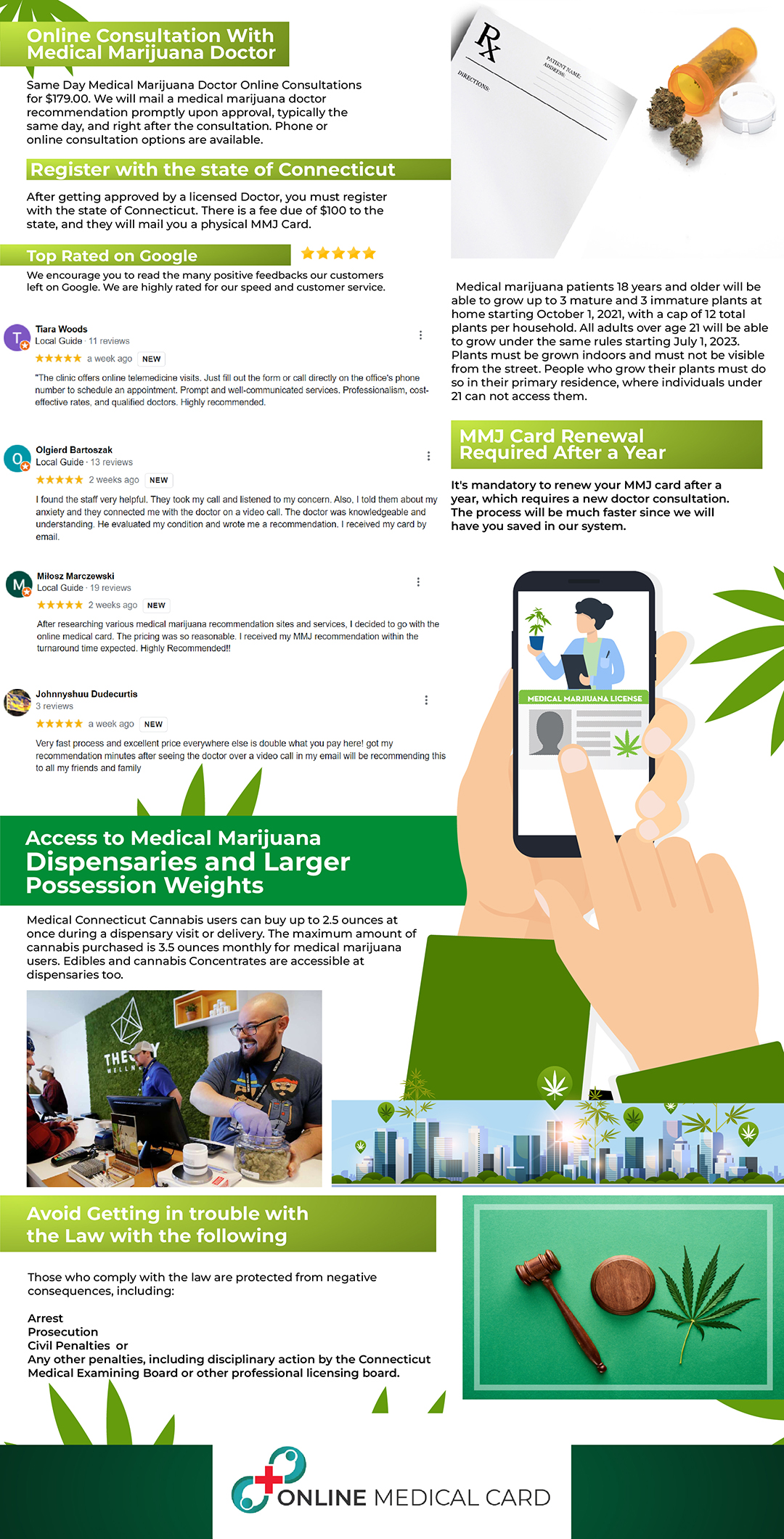 Registering for a medical card is a simple process that can be done right on our website. A patient must first consult a qualified medical marijuana doctor for diagnosis of one of the qualifying conditions. Once a patient is diagnosed by a certifying physician, they can complete their certification online. Once approved by the Department of Administrative Services, a medical card ct is issued to the patient. Medical cars are valid for one full year from the date of approval. A CT Medical Marijuana Card can be renewed on an annual basis after a new certification by the prescribing MMJ doctor. The following link has additional helpful information on the registration process: https://portal.ct.gov/DCP/Drug-Control-Division/Drug-Control/Medical-Marijuana
To Summarize:
Complete the online form

Talk to a MMJ Doctor

If approved, receive your recommendation for MMJ Card

Officially register with the state
Here is a list of common qualifying conditions
Cancer

Glaucoma

HIV/AIDS

Parkinson's

Multiple Sclerosis

Neurological Conditions

Epilepsy (or uncontrolled seizure disorder)

Crohn's disease

PTSD 

Spinal Cord Injuries

Psoriasis

Sickle Cell Disease

Cerebral Palsy
How Medical Lab Tests Are Performed
Medical cannabis testing in Connecticut calls for regulated testing by operators and labs.  Labs test for contaminants, including heavy metals, pesticides, mold, and other harsh materials. Connecticut state laws also require medical marijuana brands and companies to clearly label lab test results. Displaying potency, terpene profile, cannabinoids, and other active ingredients is also required. 
All testing is to be performed by licensed marijuana testing labs within the state of Connecticut.
Cannabis Law in CT: What You Need To Know
The Connecticut medical marijuana laws are designed to enable patients access to medical marijuana while also preventing any harm to be done as a result of the plant. Medical marijuana cardholders in Connecticut are granted immunity from most cannabis-related charges as long as they are in compliance with the rules.
Some important laws to know are as follows: 
Medical marijuana cannot be used in the following situations:
In any vehicle (moving or immobile)

At the workplace

At any school grounds (public or private)

Any public place

Around any person(s) under the age of 18
Possession
Another great reason to get a ct Medical marijuana card is that the amount of medical marijuana a patient can possess, which recently doubled from 2.5 ounces to 5.0 ounces. (Pursuant to Section 28 © of RERACA). 
Rec users, adults ages 21 and older, can now possess up to 1.5 ounces on their person.
Users can only ingest marijuana at the designated patient's home or residence.
Cultivation Law
As of October 1, 2021, Medical cannabis patients (18+) are able to grow up to six (6) plants total at home. That is broken down into three (3) mature and three (3) immature plants. There is a maximum of 12 total plants per household (all residents must be medical patients). All adults over the age of 21 will be able to grow their own cannabis supply starting July 1st, 2023.
Marijuana State Taxes In Connecticut
Patients will face three (3) individual taxes on retail sales of cannabis. Those taxes are as followings.
Connecticut State Sales Tax: 6.35 percent 

City Local Sales Tax: 3 percent

THC Content Tax: 10 to 15 percent of the sale price depending on potency
How To Renew Your Medical Marijuana Card
CT MMJ patient registrations will be valid for up to one year from the date that the physician wrote the certification. (If certified on December 1, 2022, your medical registration is valid until December 1, 2023). This stands true even if your actual application was not completed until a later date. 
Patients can begin the recertification process as soon as they are within 30 days of their expiration date. 
The renewal process is simple and very similar to the original certification process. To recertify, patients must:
Provide a photo ID

Provide proof of continued living in Connecticut

Complete the required registration electronic paperwork

Pay the registration fee ($100)

Update any other information that has changed since the original registration
Here is a helpful FAQ page on renewing your card.
Pay $20 Extra for a Medical Marijuana Card ID
For just an additional $20 you can purchase a physical MMJ identification card. While this is not required, it can add the benefit of a seamless experience at a Medical dispensary. Present your physical medical card rather than having the caregivers at the dispensary have to dig up your information. Having a physical card is also useful in providing proof of your medical patient status. If you are ever stopped while in lawful possession of cannabis, your physical MMJ ID can add legitimacy to your immune status.
Money-Back Guarantee
For patients that are not approved for their CT medical marijuana card or who do not complete the consultation, take advantage of our money-back guarantee!