Quickly connect with an Oklahoma doctor for a consultation online or by phone, and receive same day recommendations upon approval. We made it easy to acquire a medical marijuana card for residents of Oklahoma. We are highly rated for our fast turnaround time, and prompt responses to customers' questions. Here at Online Medical Card, we provide an affordable and professional service to qualify for medical cannabis in states where it's been legalized. We broke down the steps with detailed explanations on how to get started below.
Step 1 Get a
 consultation with a Doctor online or by phone in Oklahoma as long as you are a resident of Oklahoma With a Valid Driver's License

A small fee of $129.00 will allow Online Medical Card to get you in the process of getting your MMJ Card. The service we provide connects you with medical marijuana doctors in Oklahoma who can deliver same-day recommendations if you qualify. A money backed guarantee will allow you to feel safe in knowing that if you are not approved then you will be refunded. Certain qualifying medical conditions will allow for approval of medical marijuana in Oklahoma, you can learn more about these below.
Step 2
Create an Account and Register with the Oklahoma Medical Marijuana Authority online

The OMMA will need proof of residency in Oklahoma and the doctor's recommendation which can be submitted through their website. There will be a fee owed to the state of $100, patients who provide proof of Medicare, Medicaid, or are a disabled veteran can get a reduced fee of only $20. After approval, your medical weed card will be sent in the mail. You will need to renew your card every two years and pay the renewal costs. If seeking help while going through the OMMA process, they have many How-To videos on their website. 
Step 3
Dispensaries in Oklahoma Will Check and Verify the Patient License Identification Card

Everytime a purchase for medical marijuana is made in a dispensary in Oklahoma, you must present your medical cannabis card. A licensed business will need to verify the validity of your license before selling any products or before a processor concentrates your marijuana.
If needed, a Caregiver will be able to apply for a Caregiver license. This is for patients who provide documentation from a physician that a Caregiver is needed. The OMMA will require additional documentation to provide you with this license, which can be found on the Adult Patient Physician Recommendation Form. 
Purchase Medical Cannabis and Understand Possession And Cultivation laws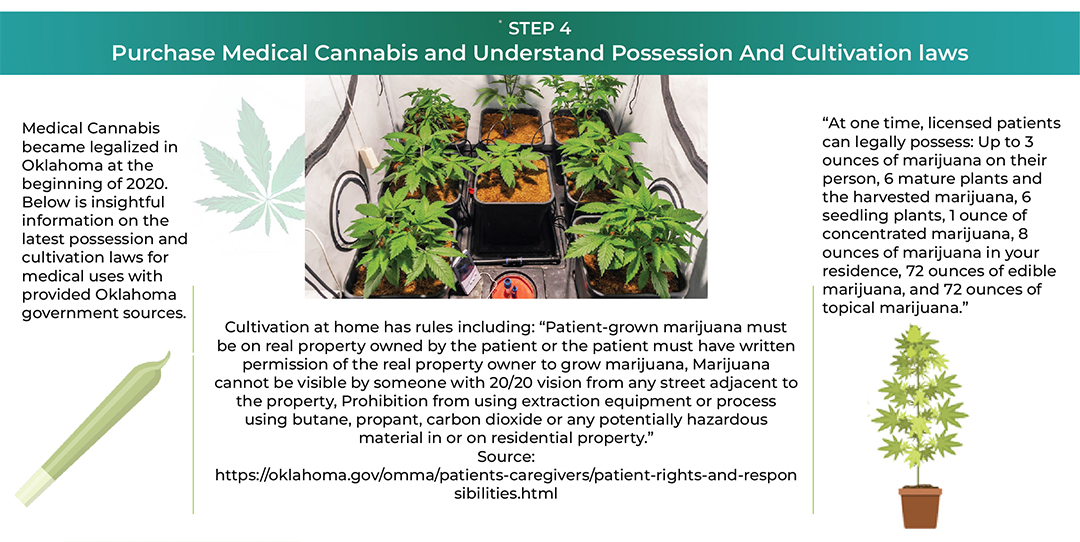 Medical Cannabis became legalized in Oklahoma at the beginning of 2020. Below is insightful information on the latest possession and cultivation laws for medical uses with provided Oklahoma government sources.
Cultivation at home has rules including: 
It's important to visit the official Oklahoma state page regarding the laws for medical cultivation. It's now legal for patients to grow cannabis at home. The permission from the owner of a rental is required to cultivate cannabis in Oklahoma, and it must not be visible by anyone outside the property. There are a ton of answers to frequently asked questions regarding the medical marijuana laws in Oklahoma, which can be found on their official state page here. 
Laws for Oklahoma Medical Cannabis users 
The law permits a medical marijuana user in the state of Oklahoma to have access to 3 ounces of dried cannabis in their possession. They are also allowed to cultivate up to 6 mature plants at home with the permission of the owner if they rent. Another huge benefit is being able to have up to 8 entire ounces of weed at their home. Not having a medical marijuana card and being caught with these amounts will lead to criminal charges explained further below.
 Source: https://oklahoma.gov/omma/patients-caregivers/patient-rights-and-responsibilities.html
Marijuana Card Renewal After 2 Years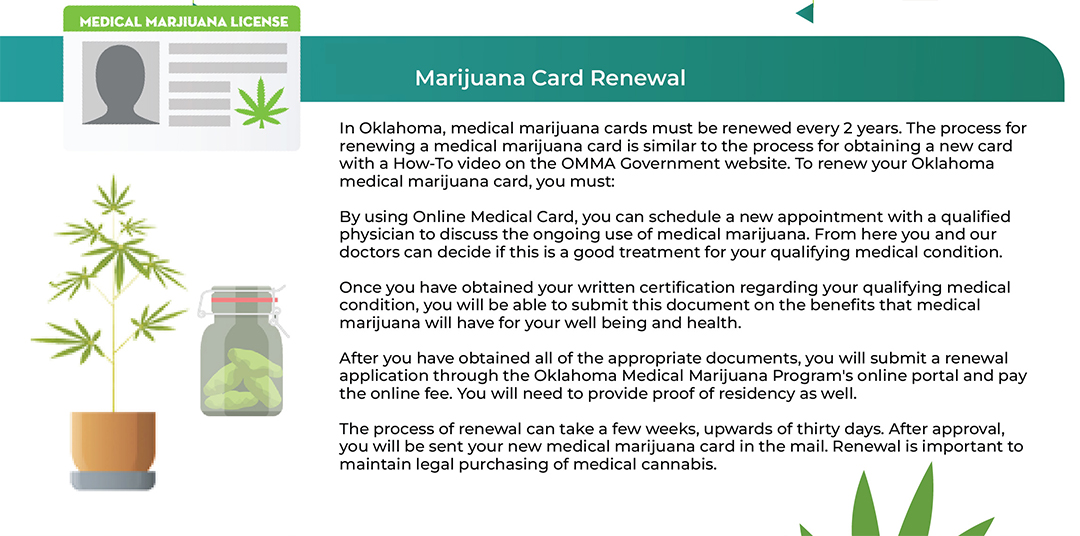 In Oklahoma, medical weed cards must be renewed every 2 years. The process for renewing a medical 420 card is similar to the process for obtaining a new card with a How-To video on the OMMA Government website. To renew your Oklahoma medical pot card, you must:
By using an Online Medical Card, you can schedule a new appointment with a qualified physician to discuss the ongoing use of medical marijuana. From here you and our doctors can decide if this is a good treatment for your qualifying medical condition.

Once you have obtained your written certification regarding your qualifying medical condition, you will be able to submit this document on the benefits that medical marijuana will have for your well being and health.

After you have obtained all of the appropriate documents, you will submit a renewal application through the Oklahoma Medical Marijuana Program's online portal and pay the online fee. You will need to provide proof of residency as well.

The process of renewal can take a few weeks, upwards of thirty days. After approval, you will be sent your new medical marijuana card in the mail. Renewal is important to maintain legal purchasing of medical cannabis. 
Current Cannabis Laws in Oklahoma For Non Medical Card Users
Having a medical cannabis card in Oklahoma can protect a person from the following criminal charges.
In Oklahoma, possession of cannabis is a criminal offense and the penalties for being caught with cannabis depend on the amount of cannabis in possession. 

For possession of up to 1.5 ounces of cannabis, the penalty is a misdemeanor charge punishable by up to one year in jail, up to a $1,000 fine, or both.

For possession of more than 1.5 ounces of cannabis, the penalty increases to a felony charge with a potential prison sentence of two years to life, a fine of up to $20,000, or both.

For possession of cannabis with intent to distribute, the penalty is a felony charge with a potential prison sentence of two years to life, a fine of up to $20,000, or both.

For cultivation of cannabis, the penalty is a felony charge with a potential prison sentence of two years to life, a fine of up to $20,000, or both.

For distribution of cannabis, the penalty is a felony charge with a potential prison sentence of two years to life, a fine of up to $20,000, or both.

For possession of cannabis paraphernalia, the penalty is a misdemeanor charge punishable by up to one year in jail.
Important notes:
There are no refunds given in any circumstance to people who have been approved for medical marijuana access. We encourage you to read the many positive reviews left on Google about our services, there is a massive amount of positive experiences shared. We strive to provide the best service online to connect people with licensed doctors for a consultation about medical marijuana access. Feel free to ask the doctor any questions about the usage of THC, and they will be more than happy to provide helpful insight. As the laws change in Oklahoma, so will this content reflect those changes. We will also provide notes to any changes done.