August 2022 brought into effect a few medical cannabis laws amongst multiple others that were approved during Louisiana's 2022 legislative session. 
These marijuana bills (before turning into Acts) were introduced in the Regular Session to expand the access and affordability of cannabis without victimizing state-approved marijuana consumers.
Amongst these, House Bill 629 (Act 473) prohibits law enforcement officials from entering and searching a house without a warrant on the sole basis of cannabis odor. The new law, which has similar counterparts in multiple other states, allows employees, students, and patients to comfortably consume their doses without any legal interference. The law gained great positive feedback, with advocates and state representatives hoping that this would direct the police's attention towards more serious crimes, like the illegal distribution of marijuana. Marcus Bryant, the author of bill 629 states, "The home is where you're supposed to feel most comfortable and safe in and not be subject to any warrantless, unconstitutional invasions of your privacy." 
HB 988 (which turned into Act 651 on August 1) protects employees or prospective employees from any negative employment consequences in case of a positive drug test. The law is only applicable in case the employee is a registered medical marijuana patient. This law has guaranteed that no employee is discharged post a drug test nor is a prospective employee discriminated against, as long as they're consuming cannabis legally. This is not to be confused with employees being intoxicated at work, in which case, employers are free to discharge employees. 
Another bill that has been signed into law, HB 190 (Act 444), allows nurse practitioners to issue medical marijuana recommendations for patients that qualify for state-approved medical conditions. This law has simplified the application for a cannabis card, especially in areas with limited exposure to healthcare practitioners. This has expanded the poll for recommending healthcare professionals. Republican House Health and Welfare Committee Chair Larry Bagley of Stonewall said, "We have no doctors in DeSoto Parish. We see nurse practitioners." The act has made the lives of hundreds of medical marijuana easier.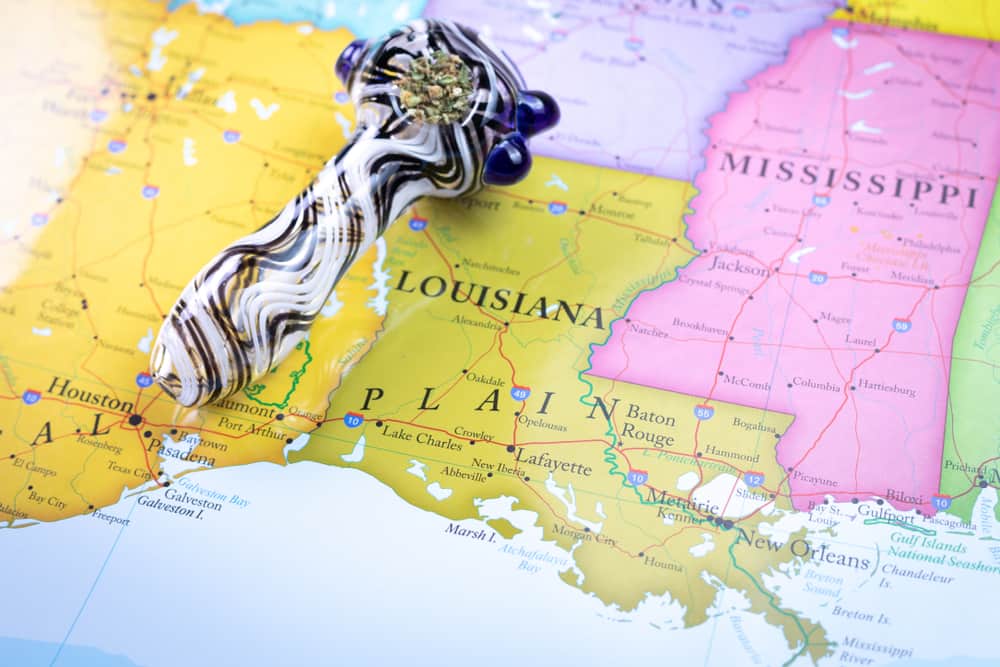 A fourth bill, HB 775 (Act 499), alters the definition of drug paraphernalia. The law excludes all devices and equipment used for inhalation of cannabis, THC, or its chemical derivatives by consumers that are registered under the state program. 
House Bill 234 (Now Act 478) prohibits the smoking or vaping of (recreational and medical) cannabis while operating a motor vehicle on a highway or right-of-way. In case of violation, the accused will have to pay a fine of $100. The punishment, in this case, is only secondary, only to be subjected in case the driver is detained for another violation. 
HB 135 (Act 438) allows out-of-state medical marijuana cardholders who are visiting Louisiana (are not residents of Louisiana) to obtain medical marijuana doses. These visitors must provide their state-issued marijuana card, recommendation, and state driver's license/ ID, and fill out a form at the dispensary. Another similar law that has been signed, HB 137 (Act 439) provides these visiting and qualifying patients with immunity against certain violations of the Uniform Controlled Dangerous Substances Law.  
These new laws have stirred a positive critique from NORML's Deputy Director Paul Armentano.  "These are common sense reforms provide further and sorely needed protections and freedoms for patients and others," he said. "Lawmakers are to be commended for putting politics aside and taking these important steps forward."
All of these laws that were signed came into effect on August 1, 2022. 
Note: Online Medical Card has a repository for the latest marijuana law amendments and any news pertaining to the medical cannabis industry. Visit our blog section for more such information.
Also Read: New Bill Permitting Cannabis Ads on TV and Radio Gains the U.S. House's Approval